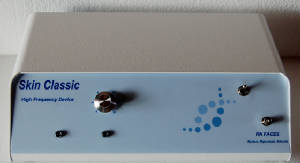 Purchase the Skin Classic for your business!
Are you a licensed skin care professional? The Skin Classic was recently awarded the 2015 Dermascope Magazine Specialty Device of the year!
The Skin Classic High frequency technology for the rapid treatment of minor skin irregularities. Your skin classic comes complete with:
The Dermlite L100
100 sterile disposable probes
E-manual
Laminated chairside guide
3 year warranty
Hands on device training in your facility
Please allow at least 3 weeks to prepare training and travel arrangements. This unit is made in the USA and ongoing support is only a phone call away.

10% restocking fee for any returns and no refund for travel fees incurred.
$4,695.00